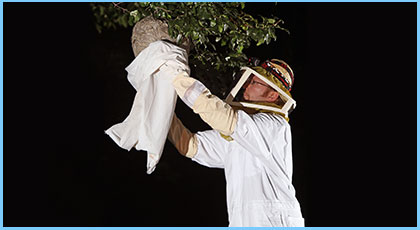 Hornets are the most aggressive and dangerous eusocial wasps. They are the largest species that can reach up to 5.5 cm in length. There are around 20 hornet species found worldwide. They feed on caterpillars and other pests. Queens often rule the hives and lay eggs. Some hornet species contain venom that can create extreme pain and even lead to death.
We provide professional hornet extermination services at a reasonable price across Burlington, Oakville & Hamilton
Ours is your one stop shop for all your pest control and management needs.
Call our exterminators for hornet extermination services in Burlington, Oakville & Hamilton.
Types of Hornets
Asian giant hornet
Asian predatory wasp
Lesser banded hornet
Oriental hornet
European hornet (known as Old World Hornet, or Brown Hornet).
Greater banded hornet
Black-bellied hornet
Black shield wasp
Japanese hornet (also known as Japanese yellow hornet)
Our Hornet Extermination Services Include:
We, at Burloak Pest Control, employ numerous treatments to eradicate hornets from your residential and commercial premises. Our professionals follow a step of methodology to prevent hornets while keeping you and your family safe.
Finding the Hornets Nest
Hornets are the most dangerous and aggressive insects that can sting readily. Which is why our professionals will locate their nest in the evening when they are less active.
Application of Insecticide
There are specially formulated insecticides that are meant to annihilate or eliminate hornets readily. They can be sprayed from a safe distance to ensure safety from these dangerous bugs.
Safety is Foremost
During hornet removal task, we ensure absolute safety and protection of your family and our professionals. While execution, our exterminators wear thick clothing, protective masks, leather shoes, gloves and goggles. It is crucial to administer effective preventive care methods on time.
Spraying Insecticide
The best time to address the hornets is the evening time. Our team will spray effective insecticide in the nest to kill or eradicate the hornets from your premises. During the extermination procedure, you and your family will be kept in a safe location.
Removal of Hornets Nest
After the treatment, our professionals will ensure that all hornets are annihilated. They will remove the hive and clean your premises with soap and water.
Burloak Pest Control administers professional and safe treatments to handle dangerous insects or pests efficiently. We keenly observe the severity of pest infestation and address that accordingly. Let us visit your place and help you get rid of these extremely dangerous insects in less time that too within your budget.
Call Us now for residential or commercial hornet extermination services in Burlington, Oakville & Hamilton.