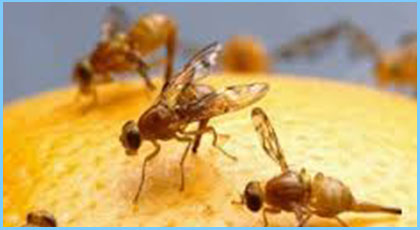 Flies are insects that create great nuisance. They can spread diseases to people and animals by contaminating our food items and water sources. We, at Burloak Pest Control, make sure to eradicate these invaders from your home or business in no time.
Our professionals are competent of undertaking any kind of pest control and management services in Burlington, Oakville & Hamilton. There are specially formulated insecticides that are applied to annihilate flies and provide you a fly-free home.
Want to get rid of flies in home? Call our flies control and management services now.
Types of Flies
Appearance / Identification
An adult fly consists of three body parts including head, thorax and abdomen. The size and color of a fly vary depending on species. They can reach up to 10 mm in length. Flies have a pair of compound eyes along with a pair of antennae.
Life Cycle
Flies go through complete metamorphosis cycle consisting of egg, larva, pupa and adult stage. Flies can lay thousands of eggs in their entire lifespan. Surrounding temperature is the key factor deciding the development time from egg to adult stage. Generally, the life cycle of a fly completes within a few weeks.
General Facts
Here are some facts homeowners must know about flies and fly control:
Average lifespan of a fly is eight days to two months, in some species it's up to a year.
There are around 16,000 flies species found in North America.
In six to eight weeks, a pair of flies can produce around 1 million offspring.
They are most often found in garbage bins, food particles and utensils.
Flies can contaminate food items and water sources leading to various health hazards.
They carry bacterial diseases, thus can deposit thousands of bacteria each time they land causing health problems such as food poisoning, diarrhea etc.
What Can We Do For You?
Burloak Pest Control is ever-ready to offer you its quality products and services for flies extermination. Our experts undertake the flies control task with precision to ensure complete eradication of flies from your home. Our flies control and management services will commence with fly inspection. Our experts will visit your place to analyze the fly infestation and determine the treatment. High quality insecticides are used to annihilate flies readily. For commercial settings, we implement fly catchers to capture the flies without contaminating the air.
Call our pest control services now to avail fly removal and control services in Burlington, Oakville & Hamilton.
Summary
Reviewer
Reviewed Item
Author Rating